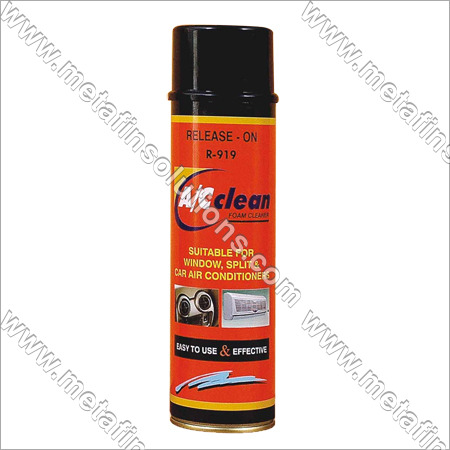 Product Description
We are eminently engaged in manufacturing and supplying the array of Ac Foam Cleaner. All our cleaners are processed by using harmless chemical components. The unique composition of our cleaners made them demanded across domestic and commercial sectors. These are useful in removing bad odors, dirt particles and soil lint from air conditioners without affecting the cooling efficiency. Our range is neutral and gentle in nature so that can be rinsed away quickly and easily. Delivered Ac Foam Cleaner is anti fungal, anti corrosive and anti bacterial and can be availed by clients' at most competitive prices.
Features:
Free from acids
Cleans dirt contaminants instantly
Disinfects A/C ducts
Further Details:

Users Guide

For Split / Window A/c

Switch off the A/C unit and remove the filters.
Shake can well before use and spray approximately 15 cms from the surface
Spray A/C Clean directly on to cooling fins.
Switch on the unit after 5 minutes. Foam is rinsed leaving cooling fins clean and dirt free
Shake can frequently during use.
For Stubborn buildup repeated application may be necessary.

For Car A/C
Switch off the Car A/C unit
Shake can well before use. Insert extension tube and spray A/C Clean into the A/C Vent.
Leave for about 5 minutes and put the A/C blower on.
Shake can frequently during use

Caution
Use in a well ventilated area
Container under pressure
Do not spray on hot Surface or flame
Store in a cool place below + 50
Avoid eye and prolonged skin contact
Avoid breathing of vapours, mists or spray

Product Code: R - 919
Unit Packing: 550 ML
Product details
| | |
| --- | --- |
| Form | Liquid |
| Usage/Application | For Window, Split & Car Air Conditioners |
| Packaging Type | Bottle |
| Brand | Release-On |
| Packaging Size | 550 ml |
| Model Number/Name | R-919 |